Main Sections
Front Page
Sports
Valley Vitals
It's in the Stars
Starwise
Archives
Links
About The Voice
Contact Us
Honoring Country and Community: Spending Time at American Legion Post # 14 with Henry Broughton



photo provided

American Legion Post # 14 member demonstrating service, community and commitment through a lifetime of involvement with community.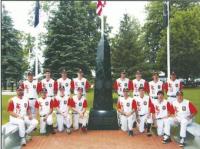 photo provided

The 2008 Vermont State Champion American Legion Baseball Team, sponsored by the American Legions of Vergennes, Bristol and Middlebury.
Tuesday August 4, 2009
By Cookie Steponaitis
There are people and places that are the cornerstones of our community, whose presence is so strong and dependable that most can not remember a time when they were not there. Located in the heart of Vergennes on Armory lane is the American Legion Post # 14 and sharing memories with one of its longest running members Henry Broughton was not only a privilege, but a lesson in commitment to community, country and those who have and continue to serve.
Henry Broughton has been a member of American Legion Post # 14 for fifty-two years and during that time has held every post and position available. Henry was born on the Cornwall/Bridport line and his father Elmer built and operated the store at the Bridport Four Corner's until its sale to the Pratt family. Henry served in United States Army during the Korean War and moved to Vergennes fifty three years ago and married his wife Lucille. In 1995, Henry retired from the Chittenden Bank, where he had served as a Commercial Loan Officer. .

Currently serving as the financial officer for American Legion Post # 14, Henry took time to share the programs, commitments and responsibilities that the American Legion holds dear. "Most people are not aware," remarked Henry, "that the American Legion itself was started in 1919 and that Post # 14 was opened in 1920, making it the fourteenth post in Vermont. From the early 1950's to 1992, the Post was located at the current site of the Main Scoop on Main Street and the new Post was opened on Armory Lane in 1992. In the early 1940's the Post was located over the Bowling Alley on Main Street."

Membership in the American Legion is reserved for those Americans who served active duty during any wartime period and were honorably discharged. The Legion family also includes the Sons of American Legion and American Legion Ladies Auxiliary who are comprised of spouses and/or children of those who served. With an official responsibility and charge to, "Serve widows and orphans of soldiers and to promote education and Americanism," Henry also shared programs that have served the surrounding community for the past sixty years.

In addition to the annual $14,000 in college scholarships provided to VUHS graduates, Post # 14 has also sponsored the Boy Scout Troop 539 in Vermont. Sending youth to the Green Mountain Conservation Camp and Vermont Police Academy are also an annual sponsorship for Post # 14. "Over the years," remarked Henry, "the Post has embraced many important programs in the community and has funded the Bixby Memorial Library and Porter Hospital with a $50,000 donation and Project Independence with a $60,000 donation. Other programs supported include the Addison County American Legion Baseball Team, (sponsored by American Legion Posts #14, #19 and #27), Boys & Girls State, Special Olympics, Vergennes Swim Team, Children's Miracle Network, Hospice Volunteers, Lake Champlain Maritime Museum and Vermont National Guard Charities which are set up to serve the families of those soldiers deployed to Iraq and other areas of conflict. "Just recently," Henry commented, "we gave a donation to the Andrew Parker Fund for an Iraq veteran who lost his legs. The Morrisville, Vermont community was trying to raise funds to build him a home on one level."

Another cornerstone of the Vergennes year which has drawn considerable attention bringing visitors and business to the area is the annual Memorial Day Parade which is recognized as the largest in the state. Henry Broughton became associated with that facet of Post # 14's programs in 1968. "Back then," Henry recollected, "the entire parade was as long as a couple of the lengths of the parking lot. VUHS didn't have a marching band then, but Week's School did. I became involved to make the parade more a message of what Memorial Day is about, and over the years it has continued to grow. Most people do not realize that the parade costs the Post $ 10,000 each year, because we pay each band that comes. With the economy and gas prices we can not ask them to come for free, so each is given a performance stipend. We also pay for the new flags that are in the local cemeteries for the local soldiers buried there."

Another visible tradition resulting from the efforts of Henry and others is the July 4th fireworks display that is seen each year in Vergennes. "About 12 years ago now I realized that Vergennes had nothing formal to celebrate the nation's birthday. I called the Fraternal Order of the Eagles and asked them to split the $6,000.00 cost with us and it has been ongoing ever since."

Not only is Post # 14 a source of immense community and program support, but it serves as a community meeting place as well. The Vergennes Lions Club holds their meetings there twice a month and the Post is also the location for countless weddings, reunions, anniversaries and celebrations. Glancing over his shoulder at the calendar, Henry surveyed the bookings for the summer months and pointed out the Legion Family Picnic "We have approximately 500 members," commented Henry. "If you add in the members of the Sons of the American Legion and the American Legion Ladies Auxiliary we are closer to 800. There will be a lot of hot dogs and hamburgers served." In addition to his duties as financial officer, Henry has had the responsibility for ordering and preparing food for weddings and Legion functions for the last fifteen years. "It very much is a team effort," stated Henry. "We are lucky in that we have both a club and a Post here in Vergennes. One of our greatest assets is our bar manager Rocky McGuire who has been with us for over twenty-five years. We have gatherings on Wednesday nights and at other times for members who span service from World War II to Iraq and people come to meet and talk."

The strongest messages learned in spending time at American Legion Post # 14 and in interviewing Henry Broughton were those not spoken, but demonstrated through years of service and commitment. For any Vergennes resident who has watched a parade, cheered on a sports team, borrowed a book from the library, or benefited from their children's play at the Monkton, Ferrisburgh, Bridport and Vergennes playgrounds all built in part by Legion support, or those who have seen the flags on the streets and in the cemeteries, the message is clear. The cornerstone of America and the heartbeat of the small towns in Vermont are people like Henry Broughton who honor, cherish and serve in ways too measurable to count. They do because they can and not because they must. They seek no fanfare and often shirk from any form of limelight. They focus talents and energies of not only themselves but other committed individuals to make a difference that echoes on through decades. This reporter has been involved with the American Legion as a teacher for the past twenty years and has experienced first hand the dedication to the youth of this area through the American Legion Oratorical Contest and the financial support for countless trips, speaking engagements and projects that promote the youth and the connection between the heritage of the nation and the next generation. Quietly, but with resolve Henry Broughton and American Legion Post # 14 stand guard over those who serve and serve to all of us as a model of citizenship and community.
---
Advertisements
Search our Archives