Main Sections
Front Page
Sports
Valley Vitals
It's in the Stars
Starwise
Archives
Links
About The Voice
Contact Us
Celebrating Family Farms and Traditions of Addison County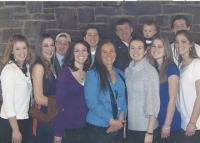 photo provided

Celebrating Family Farms and their traditions we salute the Connor family Front: Rachel Cobb Connor, Erin Connor, Susan Connor, Marian Connor, Lauren Ball-Teed Connor, Brooke Connor, and Samantha Connor. Back Row: Paul-Joseph Connor, John Connor, Paul Connor, Colby Connor and Peter Connor.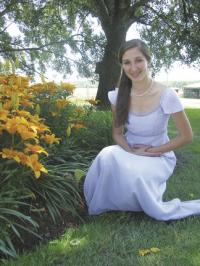 photo provided

Waiting to attend her eighth grade graduation, Erin Connor celebrates a 20 plus year family tradition of attending St. Mary's School in Ticonderoga as the last of seven siblings to graduate.
Tuesday June 30, 2009
By Cookie Steponaitis
Tuesday, June 23rd will be another milestone for the Connor family of Bridport, Vermont. Erin Connor will graduate from the eighth grade and bring to a close the tradition of the seven children who have attended St. Mary's School in Ticonderoga. Traditions are important in all families and especially to farm families in this region. When you ask the individual members to share their favorite memories and traditions you are returned to three simple, but powerful concepts of God, family and farm. These concepts are the hallmarks of the family farm and backbone of life in Addison County.
Paul Connor's lessons about family farms are deeply rooted in his own upbringing. The family moved here in 1962 and Paul is one of thirteen children who came to the Champlain Valley to be involved with agriculture. "My strongest memories," recalled Paul, "revolved around working with my brothers and father. While we worked, we joked and told stories. It truly was a family unit. We worked between four hundred and five hundred acres in Bridport and at first it was all dairy. Some of the time when I was growing up we also had turkeys. My fondest memory of Thanksgiving was in the late 1950's and my father asked all of us children if we would mind giving up our family turkey for Thanksgiving that year to a family who had no food. At that time, turkey was a luxury and not the standard meal served. That year we ate ham and it was the best Thanksgiving we had. Even though we worked seven days a week, the focus was always about God, family and farming."

Paul' family, his wife Marian and their children, Paul, Peter, John, Susan, Samantha, Brooke, and Erin have continued the traditions when they moved to their own three hundred acre farm in the early 1970's. The family unit continues to grow and work the land together. Eighth grader Erin Connor's favorite traditions centering on the farm involve the Fireman's Picnic for Father's Day, St. Isadore Day (patron saint of farmers), and Addison County Field Days. "The picnic really stands out," Erin shares, "because it is all about family. Because this area is so small and we all know each other, it is a real celebration to see everyone and catch up on stories and events in each other's lives. We eat, play, visit, and just enjoy being together." Erin was also quick to point out that the lessons learned on a farm will serve her well in her own life. "It is a place to learn responsibility and a strong sense of self and work ethic. There are ups and downs on the farm and in life. With the animals and the land you learn about both, but your family is always there to help you through the rough patches."

The family patterns and traditions are so strong that the older Connor family members who are married and moved away know the hours to reach their father or mother based on the patterns of farm life. "Every morning for the past twenty years," recalls Paul, "we have made the trip to school. My older children will call and say, where you are now, by the big oak, or at the bridge? The children have all been involved in the farm and each has their own skills. They are like my secretaries and my helpers. They work together and don't need to be asked. Whether it is dairy, or now heifers, beef and crop farming, it is about family."

As Erin moves from middle school to high school entering her freshman year at Middlebury Union High School, the change in venues also echo changes in agriculture being experienced by family farms around Addison County. Traditional avenues of agriculture are continuing to shift and the family farm once again adapts to meeting the challenges it always has as a family unit. Each day as the family drives Erin to school, she says a short prayer not only her family, but for all who travel the roads of Addison County during their busy day. "God bless the road we drive on, for there are corners in the road. There are four tires on our car to help carry the load. If we should pass while we drive, I pray to you Lord our souls to rise. God bless those who work and those who live here and call this place their home."

During the days of summer when we increase what we wish to accomplish and plan into our days, take a minute to pause and reflect. What are the traditions that bind your family and memories to this community we all call home? Have you taken time to celebrate and cherish them? What lessons have you learned from the land and the people who make Addison County a unique and special place to live? It is very simple for Erin as she grabs her jacket and jumps on the swing outside the front door of the family house.

"I wouldn't want to live anywhere else!"
---
Advertisements
Search our Archives