Main Sections
Front Page
Sports
Valley Vitals
It's in the Stars
Starwise
Archives
Links
About The Voice
Contact Us
Looking into the Past: Sharing Tips for Making History a Passion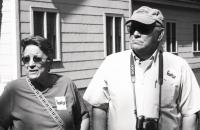 photo provided

Always up for some research or a project, local historian Bob & Ellie Mitchell share their passion with others including the teens.
Tuesday April 28, 2009
By Cookie Steponaitis
Histories, for many Americans are the facts, dates and statistics embedded on the pages of textbooks we saw and survived in school. They are memorized but quickly forgotten in the sea of information that we use to live our lives. They offer little connection to us personally and even less gratification when holding a conversation with friends. Let's be honest, history is viewed by many as being all about dead people.

Therefore, to all the readers out there who read the first paragraph of this article with heads shaking in somber agreement, you need to spend an afternoon talking to Robert and Ellie Mitchell and you will be forced to change your mind and perhaps even some of your hobbies. As historian Arnold Toynbee once said to a room full of doubting students, "History" is a Greek word which means, literally, just "investigation." When you investigate the stories of the past, they come alive and become a part of your stories as well.

While both Robert and Ellie Mitchell are avid historians, it wasn't always that way. "When I retired, is when Ellie and I would visit cemeteries, stumble onto projects, or start looking for information on our own relatives," commented Bob. "There is so much out there that you never run out of topics and possibilities." While there are a thousand different ways to get started in researching and exploring the past, both shared some tips and resources that are stimulating to all ages and levels of involvement.

Genealogy is a personal journey and both the Mitchell's highly encourage people to research and discover their own family history. "We were given a computer program called Brother's Keeper that allowed us to store and record our findings," remarked Bob. "We had spent hours before that logging all we found, but the technology tool gave us another way to look at the data." Ellie added, "You really need to start at the Town Clerk's Office. While you are there looking at your own records you will find another that interests you and then you are off on something else. The maps, documents and logs from the past make you want to know more about the people and where they lived."

One of the Mitchell's projects has included locating and documenting all the local cemeteries and the veterans who are buried there. One priceless source of information can be found in Beer's Atlas, which includes maps of Addison County in 1871. "What makes this one source so intriguing," explained Bob, "is that it puts the names on places in Addison County. You see homes, schools, cemeteries, roads, bridges and all natural features as well. Ellie and I have been looking for some time for the Spaulding Cemetery that was on the Beer's map that no one could seem to find. Not that long ago we were contacted by a local man who reads the water meters and told of a cemetery on private property hidden in a huge clump of Lilac trees. Sure enough, it was the missing Spaulding Cemetery."

Over the years personal interests have also helped the Mitchell's link to history. Bob was an avid diver and long before the formal recognition of the wrecks of Lake Champlain or the creation of such vast resources as the Lake Champlain Maritime Museum, he and his brother-in-law would spend the winter reading about the wrecks in the lake and the whole summer diving on them. "One of the best wrecks we dove was the Champlain," commented Bob. "It was also known as the Oakes Ames and wrecked in 1875. Ellie is working with him on a photography project that began about five years ago. "We go around the towns," she remarked, "and any building that we think was built earlier than 1940 we photograph it and take notes on its location, use and who owns it. Some of these magnificent buildings are crumbling and we want to record them for the future."

Another sure way to get involved with history is to read accounts of the local area from eyewitness views of the past. Bob is currently reading and enjoying the works of Rowland Robinson and encourages others to try the work of Frank Strickland whose articles, Red Letter Days tells the story of Vergennes with the use of newspaper clippings. "He used to camp down by the Big Elm on Little Otter in Ferrisburgh and fish. He wrote about the Satley family history, and his narrative is interesting."

Ellie also commented that old photographs and objects are places to start with history. "There are a lot of people with old photographs and many with stories to tell. Sharing of information and details is a way of piecing together stories of the past." She paused for a minute and grinned before adding, "It is on going. You just never run out!"

While genealogy, Town Clerk records, Beer's Atlas, old photographs and old objects are just a few of the places you can start, both of the Mitchell's also offered praise and encouragement for seeking out others with similar interests. The Ferrisburgh Historical Society is always looking for new people interested in history, and local museums such as the Sheldon Museum, Rokeby Museum, Chimney Point Museum and Lake Champlain Maritime Museum offer hundreds of ways to engage the past. Some programs are hands on and others are more cerebral, but all investigate history with the purpose of having a lens through which to tell the story of human and natural history.

Involving teenagers with history projects is another way to link up people with history and for the past six years, the Mitchell kitchen as been the kick off site for the annual planning meetings for the Otter Creek Basin Student History Club. While the officers plan the annual events, outings and topics for the coming year, the Mitchell's serve as a conduit for ideas, information and occasionally direct a project at the group such as digging up a cannon and looking at artifacts to figure out what they are. It is precisely this type of activity that allows for the opportunity to really see history come alive from the pages of a textbook and experience the texture and power of the people who lived it. Ellie Mitchell would put it simply, as she ended the interview with, "Exploring local history is just plain fun!"
---
Advertisements
Search our Archives