Middlebury Meeting House: Celebrating 200 Years Of The Congregational Church Exhibit At The Henry Sheldon Museum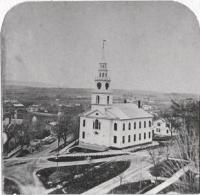 photo provided
Wednesday December 31, 1969
Two hundred years ago the citizens of a frontier village pooled their resources to build what many regard as the most beautiful building in Vermont, the Middlebury Congregational Church. The Henry Sheldon Museum of Vermont History and the Congregational Church of Middlebury join together to present Middlebury Meeting House: Celebrating 200 Years of the Congregational Church, an exhibit about builder Lavius Fillmore's masterpiece, the Congregational Church of Middlebury. The exhibit is on view at the Sheldon through June 28, 2009.
Curated by Nancy Rucker and Barbara Wells, the exhibit provides an overview of the Congregational Church's long history. Originally conceived as a meeting house for the Church of Christ, the consecration of the church on May 31, 1809 was the culmination of years of hard work and controversy. The exhibit will feature objects from the Museum's collection, including the Bible used in 1809 dedication, Watts Psalms and Hymns owned by an original member, and photographs and architectural remnants from the building. Come and celebrate the anniversary of this important Middlebury landmark.
There will be a reception for the exhibit on Thursday, April 16 from 5-7 p.m. In conjunction with the exhibit, Nancy Rucker and Barbara Wells will speak about the history of the Congregational Church on Tuesday, May 12 at noon. This talk is part of the Sheldon's Brown Bag Lunch History Talks series. Participants may bring a brown bag lunch; beverages and dessert provided. Fee: $2.
The Henry Sheldon Museum is located at 1 Park Street in downtown Middlebury across from the Ilsley Library.
Museum hours: Tues.-Sat. 10 a.m.-5 p.m. and Sundays 1-5 starting May 24. Research Center hours: Tues., Wed.,
Fri. 1-5 p.m., Thurs. 1-8 p.m. Admission to the Museum is $5 Adults; $3 Youth (6-18); $4.50 Seniors; $12 Family.
The Sheldon will be free on Tuesday, April 14 from 10 a.m.-5 p.m.and on Sunday, May 31 from 1-5 p.m. for Addison
County residents. For more information call 802/388-2117.
---