Main Sections
Front Page
Sports
Valley Vitals
It's in the Stars
Starwise
Archives
Links
About The Voice
Contact Us
Anaїs Mitchell At Town Hall Theater Concert to Benefit the Willowell Foundation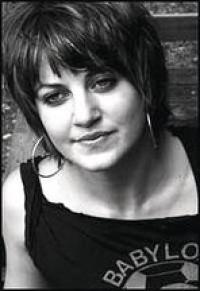 photo provided
Tuesday April 7, 2009
Since growing up on a sheep farm in Bristol, Vermont, singer-songwriter Anaïs Mitchell has traveled the country playing in concerts and music festivals, gaining fans at every stop. Now on the cusp of a major career, she returns to Addison County on April 10 for a benefit concert at Town Hall Theater.
The concert is a fund-raiser for the Willowell Foundation, based in Monkton, Vermont. The foundation supports sustainable land use and an ongoing environmental approach to place-based education.
That sheep farm was run by her parents and shared with her grandparents and other tenants. Among the tenants were members of a jazz band, and when Mitchell was 13, a deal was struck whereby the band's guitarist gave her lessons in exchange for reduced rent.
Years later she began writing songs. "I knew from the start that's what I wanted to do, but I was too shy to talk about it," she says. "You get this sort of pitying look from people when you say you're going to be a singer-songwriter. They figure, 'Oh, you mean you're going to be a waitress.'"
Critics are enthralled. "Still in her twenties, Anais Mitchell writes with the wisdom, sophistication and poetic ability of someone twice her age," says Rich Warren.
"There is short supply of young songwriters who write as intensely personal, passionate and literate lyrics as Mitchell does," says popmatters.com.
The Willowell Foundation is the creation of Matthew Schlein, who also created the Walden Project, which allows students to explore sustainable land use on the foundation's 230 acres. Alexandria Hall, a Walden alumna, has also agreed to play at the concert.
Anaïs Mitchell will perform at Middlebury's Town Hall Theater on Friday, April 10, at 7 pm. Tickets, $27, may be purchased at 382-9222, www.townhalltheater.org, at the Town Hall Theater box Office (Monday-Saturday, Noon-5), or at the door if available.


---
---
Related Stories:

· In Celebration of the Arts: Festivals and Competitions Showcase VUHS Student Work

Advertisements
Search our Archives