Main Sections
Front Page
Sports
Valley Vitals
It's in the Stars
Starwise
Archives
Links
About The Voice
Contact Us
In Celebration of the Arts: Festivals and Competitions Showcase VUHS Student Work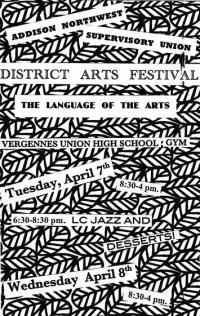 photo provided
Tuesday April 7, 2009
By Cookie Steponaitis
"Believe it or not, I can actually draw." -Michelangelo
Over 1000 local artists will be showcased for public view in two separate events throughout the next week. The artists, ranging in ages from five to eighteen come from Vergennes Elementary School, Ferrisburgh Central School, Addison Elementary School and Vergennes Union High School. The Addison Northwest Districts Arts Festival will be held Tuesday, April 7th and Wednesday, April 8th in the VUHS high school gymnasium. When asked about special attractions, VUHS art teacher Jeff Spencer remarked, "Just to see all of the art is special in itself, but this year attendees should look for talking paintings." Featuring all mediums of art, the festival is an annual event showcasing the depth and diversity of art in the district. It is one of the few times during the year when the work of the whole district is presented in one location and featuring K-12. Extra treats include performances by LC Jazz and desserts.

While the artists gather in the gymnasium, the historians are packing up their work and hitting the road. On Saturday, April 4th, over 50 VUHS history students will compete in the Vermont History Day Competition at Spaulding High School in Barre, Vermont after completing a three week project that involved research, interviews, and communication on a historic topic. Students created websites, documentaries, exhibits, performances and research papers on topics that range from V.I. Lenin to P.T. Barnum. While this event is on the annual schedule of competitions for the VUHS Social Studies department, this year is special because it is the 25th consecutive year that students have entered as well as the year of the largest number of competitors from VUHS.Artist and mathematician M.C. Escher once commented, "At moments of great enthusiasm it seems to me that no one in the world has ever made something this beautiful and important" in explaining how important the creation of art was to him and in his personal life. Think back to your own involvement with art and it isn't hard to remember the pleasure of creation and the pride in making an original piece, no matter the art medium.

While the warm weather beckons you to be outside and go to other destinations, be sure to mark your calendar for April 7th and April 8th. VUHS is the place to celebrate art and see representations of the unique, beautiful and individual. You will step into a world of color, creativity and personal choice and artistry. Bring your camera and your enthusiasm.


---
---
Related Stories:

· Anaїs Mitchell At Town Hall Theater Concert to Benefit the Willowell Foundation

Advertisements
Search our Archives