Main Sections
Front Page
Sports
Valley Vitals
It's in the Stars
Starwise
Archives
Links
About The Voice
Contact Us
The Valley Voice Salutes 2009 Future Farmers Of America In Our Area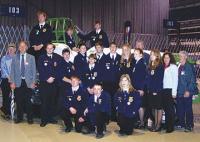 photo provided

Pictured: David Hawkins, Jason Sampson, Cody Hawkins, Chet Hawkins, Advisor Harmon Boyce, Basil Jerger, Alex Coyle, Mason Evarts, Arie Smits, Brittny Buck, Gavin Bicknell, Gary Grant, AnnaJo Smith, Kathy Kennett, Chuck Kennett, Geoffrey Grant, Garrett Holler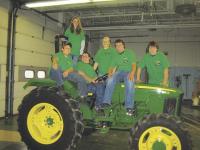 photo provided

Students in the Hannaford Career Centers Mechanical Science class learn basic safe tractor operation skills. Pictured on the one of the tractors on loan from Hendy Bros that they completed their safety course on are Ramsey Bronson, Ashley Howlett, Joey Zeno, Brittany Clark, Austin Quesnel and Tyler Kimball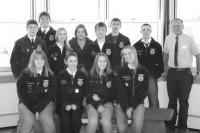 photo provided

Vergennes FFA- The countless students who have passed through his FFA chapters have learned valuable lessons about plant & soil science, animal husbandry and judging, self-esteem, and public speaking. Mr. Boise is now retired but still appreciate is a co-advisor along with Suzanne Buck. Third generation Addison County Farmer Bill VanDeWeert is the Ag Teacher.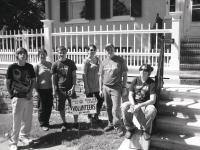 photo provided

The Hannaford Career Centers Landscape Class had the opportunity to work on their landsacaping skills this past fall at the Community House in Middlebury. Students learned a variety of pruning and shearing techniqes. Pictured are (L to R) are Dustin Dyer, instructor Cheryl Werner, Zach Sullivan, Chelsea Drown, Steven Patterson and Kara McQuinn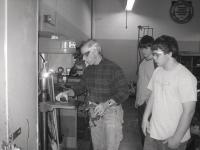 photo provided

Mechanical Science instructional aid Tom Tresh demonstrates safe drill press skills to Hannaford Career Center students Austin Quesnel and Tyler Kimball.
Tuesday February 24, 2009
By
The National FFA Association is dedicated to making a positive difference in the lives of students by developing their potential for premier leadership, personal growth and career success through agricultural education. FFA is an integral, intracurricular part of education and hands-on career exploration. FFA programs and activities help members develop public speaking skills, conduct and participate in meetings, manage financial matters, strengthen problem solving abilities and assume civic responsibilities. Nearly 450,000 members participate on local, state and national levels in approximately 7,275 chapters.

Founded in 1928, the Future Farmers of America brought together students, teachers and agribusiness to solidify support for agricultural education. In Kansas City's Baltimore Hotel, 33 young farmboys charted a course for the future. They could not have foreseen how the organization would grow and thrive.

Since 1928, millions of agriculture students - no one knows exactly how many - have donned the official FFA jacket and championed the FFA creed. FFA has opened its doors and its arms to minorities and women, ensuring that all students could reap the benefits of agricultural education.

Today, the National FFA Organization remains committed to the individual student, providing a path to achievement in premier leadership, personal growth and career success through agricultural education. Now, the organization is expanding the nation's view of "traditional" agriculture and finding new ways to infuse agriculture into the classroom.

Locally Vergennes FFA advisors are Bill Van De Weert and co advisors Suzanne Buck and Harmon Boyce.There are currently 24 members. National FFA week is Feb 21- Feb 28. During the week you will see window display in a bank if Vergennes, and at the Vergennes Union High School. The Learning Barn is also back and will be avialable to local area elementary schools.

Some upcoming events are: the Annual Donkey Ball Game April 2, Thrusday evening at VUHS. The State Convention April 6 & 7, where many teams and individuals will be comepting.

State Officers are Justyn Lalumiere President and Brittny Buck-Vice President/Secretary represented the chapter at the Farm Show in Barre. Brittny Buck represented her chapter and the state at the Farm Bureau meeting, Bourdeau Brothers Open House and will assist with the Farm Bureau meeting in Addison County at the Hannaford Career Center.

Teams also represented Vergennes at the National Competition in 2008: Agricultural Sales-Brittny Buck, Justyn Lalumiere, Samantha Marszalkowski and AnnJo Smith. Advisor-Suzanne Buck. Creed Speaking contest-Arie Smits. Dairy Foods-Josh West, Mason Evarts and Alex Coyle-Advisor Harmon Boyce.
---
Advertisements
Search our Archives