Vehicle Recovered From New Haven River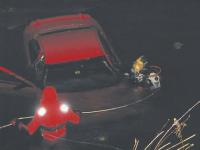 photo by Tamara Boise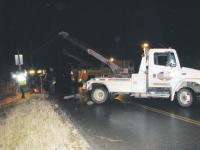 photo by Tamara Boise
Tuesday December 16, 2008
The driver of this vehicle had a harrowing experience on Tuesday, December 9th 2008, when the late model Pontiac Trans AM she was driving left river road in New Haven and plunged into the New Haven River along River Road.

Joe Boise of Middstate Towing located at Cyclewise just north of Middlebury was called out on Tuesday afternoon December 9th 2008. "We were asked to retrieve a vehicle from the waters of the New Haven River along River Road in New Haven," Boise explained. Using his heavy-duty tow truck Boise with the assistance of local cold water divers, Boise and his wrecker crew were able to snake the car onto the roadway and then on to his tow truck. Cold weather and swift river current at the accident scene made the retrieval difficult.
Vermont State Police investigated the accident.

The accident was apparently still being investigated at press time as no press information had been released about the accident by authorities.

Eye witnesses at the accident scene have indicated that the driver was able to exit the car and struggle to shore after it went in to the water.

The passenger side door of the vehicle was open and the vehicle was sideways in the river current when the vehicle recovery began.

The driver of the car had to fight freezing water and swift current but was able to reach shore for further assistance. The condition of the driver had not been made public as of press time. Cold water immersion without any thermal protection brings on hypothermia very quickly as a persons core body temperature dips below 98.6 F. The fact that the driver of the vehicle was able to make it to shore under extremely adverse cold and swift water conditions after a car crash is to say the least extraordinary.


---