Main Sections
Front Page
Sports
Valley Vitals
It's in the Stars
Starwise
Archives
Links
About The Voice
Contact Us
"Run Silent Run Deep": Sharing Memories with WWII Submariner William H. Larrabee



photo provided

The WWII Navy Veteran displays a sextant as he stands outside his McDonough Drive home.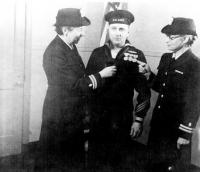 photo provided

Preparing for a Naval inspection, Mr. Larrabee is assisted by two nurses.
Tuesday November 25, 2008
By Cookie Steponaitis
William H. Larrabee was born in Vergennes on September 18, 1922 and has called the "Little City" his home ever since. He has lived in the same house on McDonough Drive for eighty-five years and has been married to his wife Rebecca for sixty-one years. Known to generations of Vergennes residents as "Mr. Larrabee" or simply "Bill", he has served in the roles of postal clerk and professional bartender, but the career that most residents recognize him for is his forty years of service to the town, state and nation in the military.
From 1942-1982 Bill served in the US Navy and reserves. Bill served as a Chief Torpedo's Mate in the US Navy from 1942-1946, a duty for which he enlisted. While many Americans know of the presence in World War II of this branch of the military, few are aware of the staggering statistics surrounding this branch of service. Two hundred seventy-three submarines made up the US Navy force that patrolled the waters of the Pacific. While these men and boats comprised only 1.6 percent of the total Navy forces, they accounted for 54.6 % of all Japan's losses at sea. While the Japanese lost almost half a million lives in these encounters, the submariners suffered the greatest loss rate of any branch of the US Armed Services. Of every seven men who sent out to sea in a submarine one was lost. In addition, one in every five subs never returned.

Sitting with Bill and his wife in their Vergennes home is far removed from the harsh realities of war and service. Looking at the photographs and listening to Bill share that part of his life, it is apparent that he is very proud of his country, his service and those he served with. In the confinement of three hundred eleven feet and nine inches of a WWII submarine, you grew close to the men and equipment that made a submarine a submersed community. Bill was in charge of the twenty four torpedoes on board, each weighing 3300 pounds. "You had to know every bolt, every airline and every hydraulic line," Bill commented when asked about his knowledge of the working of the submarine. "We were sent out on war patrols for an average of 60-90 days," he recalled. "On average we were at depths of 300-450 feet, but I had occasion to go to 1100 feet once."

When questioned about a t-shirt he had with the quote "Run Silent, Run Deep", Bill explained that in 1942 that was a common term used in submarine combat. "When the enemy was on the offensive and depth charging you, you would take your sub deep and rig it for silent running." Bill explained. "That met all un necessary machinery was shut off. You did not speak and you even took off your shoes and walked around in your socks. The enemy sonar was increasing in accuracy each year, and they could hear a pin drop. Sometimes you would maneuver in a pattern, or sometimes you even went to the bottom and sat there, playing dead."

Submarines of the World War II era were named after fish and Bill served on the models known as the Perch and the Snapper. With crews that ranged in size from 65-80 men, you came to know many of them personally, and to learn to establish a new definition of personal space. "When I was in training and went away from the docks for the first time," remembered Bill, "I was in an old World War I S-16. When we sat down to eat at the mess table, I had my elbows out like normal and an " Old Salt" barked at me," Get your elbows down, you're not on surface crafts anymore son." During his tours of duty in the war, Bill made three patrols on the USS PERCH submarine before being transferred to the USS SNAPPER submarine that was stationed in Brisbane, Australia and later in the Philippines. Bill spoke at length about the unique mixture of men in the crew of the submarines and the many facts about American life and culture he learned from the men. "I served with men who came from all parts of America," he remarked. "One young lad was from Kansas and away from home for the first time. He used to tell stories about listening to corn growing. After taking considerable ribbing from the men, he finally made us realize he was serious and told us all to go into a corn field at night when the sounds of the day are dimmed. The crunching noise you hear, he told us, was the growth of the corn."

Others in the crew came from Maine, Texas and even the west coast. Some were coal miners, others owned dude ranches, and some were third generation fishermen. All were joined by a common sense of commitment to their country and a desire to make a difference. "You have to realize," commented Bill, "when the attack on Pearl Harbor was announced the people were literally tearing the doors off the recruiting offices to enlist. Everybody wanted to do something. When I got to the ship yards and saw women welders working side by side on the submarines, I realized that the nation had come together. I gained an immense knowledge and respect for people from all over the nation and a sense of self and self-discipline. You had to take care of yourself and your crew. There is no take out services or filling stations in the middle of the Pacific Ocean."

While Bill left active service in 1946, he joined the navy reserves and served in the position of Chief-Master-At-Arms for an additional thirty-five years. His entire naval service spanned a total of forty years. Still active in the community, Bill cautioned me certain days that would not work for the interview because he was "helping some elderly people" get to doctor's appointments. Active in many different organizations and capacities, Bill is a member of the Dorchester Lodge No.1, and is a 32 degree Scottish Rite Mason. He also serves in the Cairo Shriners, American Legion Post # 14, and is a life member of the Submarine Veterans of WWII, and is a national life member of the Thames River Chapter of the US Submarine Veterans of WWII, Groton, Connecticut. He additionally was a former charter member of the Vergennes Lions Club.

Bill and Rebecca shared with me the view from their front porch of the Otter Creek and Vergennes Falls and told me stories of their great grandchildren Chelsea, age 9, and Rachel age 3 that live in Wyoming. Proud of their own children, one son, and one daughter, grandchild Lynn and great granddaughters, they look forward to holidays with all gathered and look fondly at the streets of the town they have for so long called home.
"Now I am going to rely on you to put it all together," remarked Bill at the conclusion of the interview. "I am not one who is much for words."

In the case of William H. Larrabee, this statement is certainly true. Words are not needed to explain what his life, service and commitment does. Deeds speak volumes to the character and opinions of any person and one only has to meet and visit with Bill to see that his life defines who he is as a person. His family, country and town have all benefited from the diligence and dedication of this special man, who turns 86 this year. With the same quiet grace and unassuming attitude that he welcomed this reporter into his home, he offered to meet with me again or to speak to high school classes about his experiences in World War II. Shaking his hand and leaving his home feeling welcome to come on back anytime to visit or have a piece of pie, I was reminded of the English proverb, " Still waters run deep." Deeply rooted in family, country and community Bill Larrabee and his peers remind us all to stop and remember where we have come from and what we owe to the generations that secured and protected our liberty.
---
Advertisements
Search our Archives