Main Sections
Front Page
Sports
Valley Vitals
It's in the Stars
Starwise
Archives
Links
About The Voice
Contact Us
Sharing Gardening Secrets with Master Gardener Walt Kuehn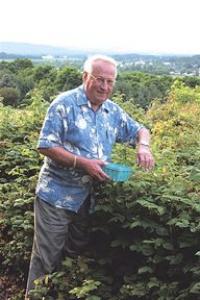 photo by Cookie Steponaitis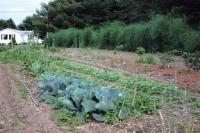 photo by Cookie Steponaitis
Tuesday July 22, 2008
By Cookie Steponaitis
For every first time gardener, who armed with a seed catalog, a hoe and a sense of purpose, set off in pursuit of the perfect vegetable garden and discovered that weeds are often more prolific than plants, I offer my support, shared experience and a suggestion. Spend an hour with master gardener Walt Kuehn and you will have a renewed purpose, a real understanding of what a real garden can produce, and some wonderful tips on how to proceed.

Walt's involvement with gardening and soil began in his early life, and he began his story with his grandparents who lived in Germany and had thirteen children. They had to grow their own food and especially all their own potatoes for winter. When his parents immigrated to America in the mid 1920's, "things were not available," stated Walt." My parents first lived with orange crates for furniture and later were able to purchase a Sears House for $ 5,000 in North Haledon, New Jersey. In our 2000 square feet of land we had a garden, goats, turkeys, pheasants, and pigs. We had to be self-sufficient." Walt's chores at age five included milking goats, digging the garden, weeding the garden and bringing in produce to a kitchen that was forever preparing jars and jars of products. "We even had an outside pantry," Walt recalled, and kept beets, cabbages, and carrots for winter."

At age eleven, Walt expanded his involvement with gardens and agriculture by working on a truck farm in the local area in New Jersey. "I was saving for college and summers were spent in fields of vegetables, weeding, picking, and packing. When I was fifteen, I worked on a turkey and chicken farm. Instead of picking weeds and veggies, I was picking eggs. Even though we lived in a traditionally described urban area, agriculture was very much a part of the community."

After graduating from Rutgers University with a BS degree in Agriculture, Walt received his commission in the US Army as a second lieutenant, and Walt's experiences with gardening were for many years more for pleasure than sustenance, as he served from 1957-1981 retiring in Lieutenant Colonel. Married for fifty one years to his wife Susan, Walt has traveled to thirty two countries and has grown gardens in places as diverse as Vietnam, Turkey and Germany. When asked about innovative or unique agricultural practices he had seen in use, Walt was quick to point to the skill of the rural farmers in Turkey. They irrigated their fields with the streams and the terrain was rocky at best. They added sheep manure into the streams and as the stream flowed through the fields, they used it to fertilize the fields. There were some huge vegetables." While in Vietnam, he also planted watermelons in anthills.

In 1990, Walt and Susan moved to Vermont and settled in the Vergennes area. One of the main things that attracted them to the property they own on Crosby Heights was the plowed fields and gardens that were in place. Walt is quick to point out that for the first time gardener; he suggests that you start small. "A 10X10 plot and a few plants," he shared with me, "is more than enough." Glancing around Walt's 5000 square feet of landscaped garden, it is easy to see how many gardeners think more is better. Walt's garden includes asparagus, pole beans, egg plants, peppers, squash, thirty-three tomato plants representing ten different types, corn, raspberries, blueberries and 1000 square feet of sunflowers.

Having learned long ago from VUHS agricultural teacher Harmon Boyce that it is not dirt, but soil, I was quick to ask Walt about how his garden is able to produce such a bountiful harvest year after year. "It took me years to make this soil from clay to the friable loom soil it is now. One thing that makes a big difference is what you put back into the soil. I use buckwheat and plant it and turn it under four to five times in a year. It provides organic matter for the soil. I started doing it to the soil here in 1993 when we bought the property. It takes patience and persistence to be successful with a garden. Every year I plan on scaling back, because the weeds certainly catch up with me in August, but there is a joy in gardening that keeps me in my seed catalogs and planning for next year."

Walt starts all of his own plants under grow lights in an office area and is beginning his plants as early as February. He spends on average between six hours to thirty hours a week out in his garden. He continues to work full time for the US Post Office as well as staying active with Victory Baptist Church and their gardens. He also says at any time his garden could become a full time retirement employment. He showed me his favorite piece on his property with a view of Vergennes and the acres he works with such love and tenacity. "We give away as much as we keep," he remarked. "Over the years I have been involved with gardening at the retail and education level. I attended the University of Vermont and earned my Master Gardener certification which requires the teaching of gardening techniques in the local community."

For the neighbors who are regularly treated to fresh veggies and wondrous sunflowers, several memories of Walt and Susan's garden stand out. All of the neighborhood children used to watch and wait with anticipation for the pumpkin patch to grow. The fall season always included wagon rides through acres of pumpkins and choosing the perfect carving pumpkins. One Halloween, over 100 smiling jack-o- lanterns decked the hill in color and fun.

As the economy continues to fluctuate and rising fuel and transportation prices increase the prices of all foods in the stores; many people are turning to gardening out of economic necessity and in a desire to keep funds local. Walt's involvement with gardening began out of necessity, but has evolved into a life long love of soil, plants and the benefit of being involved with both. "Doing things like a garden keeps you young, "he commented. " Not only is the freshness of the produce incredible, but it is the skills you master as you to learn to cook, prepare and preserve that freshness for future meals. Gardening is for all people of any age. It connects you to the soil. I read that last year Park's seed company sales doubled in one year. Many more Americans are getting involved with gardening. As produce and items become more difficult to get, growing our own becomes sensible, healthy, and brings us all back to the land."
---
Advertisements
Search our Archives