Main Sections
Front Page
Sports
Valley Vitals
It's in the Stars
Starwise
Archives
Links
About The Voice
Contact Us
Friends of Middlebury Hockey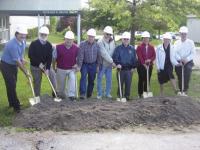 photo provided

left to right: Rick Marshall, President of FOMH (Friends of Middlebury Hockey); John Tenny, Chair, Middlebury Selectboard; Dr. Robert Lafiandra, Secretary, MSCC (Memorial Sports Center Commission); Kevin Newton, President, MSCC; Bob Collins, FOMH; Dick Bullock, Commander, American Legion; Cindy Myhre, Chair, Middlebury Amateur Hockey Association, Sarah Cowan, National Bank of Middlebury; Craig Bingham, Middlebury Selectboard.
Tuesday June 10, 2008
The Friends of Middlebury Hockey recently celebrated the ground breaking of its new building expansion to the Memorial Sports Center (Howard E. Brush Arena) in Middlebury, Vermont. Bread Loaf Corporation was selected to provide the design-build services for this expansion.

In Phase 1, the shell of the entire addition will be erected and the first floor will be completed. The first floor includes four locker rooms with shared bathrooms, skate rental and skate sharpening space. The expansion required careful attention to hockey player flow from the ice to the locker rooms. Creative solutions to relocate the main entry to the ice arena and reconfigure bleachers will allow spectators to comfortably gather before, during, and after events.

For Phase 2, the second floor will house public bathrooms, an office, meeting room, concession area, and a large viewing area. The heated viewing area will feature floor to ceiling glass providing commanding views of the ice arena. The completed expansion will also foster the use of indoor turf with the spring and fall sports.

The Friends of Middlebury Hockey are still raising funds for Phase 2 of the project. If you would like further information or to contribute, please call Jim Swift at 388-6356. This project is scheduled for completion in October, 2008.

Bread Loaf Corporation integrates planning, architecture, and building solutions to help clients grow their businesses, campuses, communities, and cultural institutions. For more information, visit www.breadloaf.com .

---
Advertisements
Search our Archives