A Quick Preview of Spring at Sunset Hill Farm In Cornwall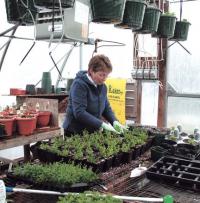 photo by Mike Cameron

Nancy Edson works the soil around some of this year's nursery stock at Sunset Hill Farms Garden & Nursery in West Cornwall Recently.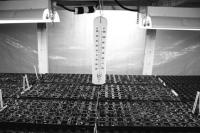 photo by Mike Cameron

Seeds have become seedlings after germinating in Al Edson's custom built seed incubator.
Tuesday March 25, 2008
By Mike Cameron
Enough of this cold damp weather and the mid-week ice storms.
After an endless winter of real Vermont weather that just does not want to let up we thought it was time to take a peek at spring and what lies just around the corner even before those mild sunny spring days arrive.

How could we do that? First a phone call was in order to Sunset Hill Farms Garden and Nursery in West Cornwall where Al and Nancy Edson have been hard at work applying their special brand of "green magic" in the greenhouses.

Could we sample some of their new crop of plants and hanging baskets "growth in progress?" They were only too happy to oblige.

The Edson's had not let any grass grow under their feet since we saw them last fall during their final sales of the season. One customer we distinctly remember back then was leaving the nursery on that sunny autumn afternoon with a hanging basket that could only be described as humongously big and as fresh as it was in the previous spring of 2007. The Edson's are preparing their 2008 nursery stock today and are looking for similar results this spring, summer and fall. Their many loyal customers are as well.

We arrived last week and found Nancy in one of the big greenhouses with her constant companion "Rocky". After a few barks and some pats for the talkative little canine, the little guy knows that we have been officially welcome and he settles in for our visit attentively.

First Nancy shows us some hanging baskets hung in neat rows, the combination of plants in them growing in the warm moist air of their winter greenhouse home. It won't be long before these particular flowers will begin to grow higher and then cascade over the sides.

As a stiff northerly wind whipped across the sky outside, inside the greenhouses and potting shed we could enjoy a more temperate climate. "It will be a while yet but we should be ready for Mothers Day," Nancy predicted while she continued to work. She was replanting some the recently arrived plants delivered in large flat trays. She then transplants them into pots for further growth and later sale.

7000 plants arrived in March and more are expected soon. There will be plenty of work for the Edsons before the spring selling season begins.

Every successful greenhouse and nursery business has their special knack for growing things right. Asked about that, Nancy adds between handling soil and tiny plants while we chat; "Al has a green thumb."

Right now pre-season work centers on getting annuals comfortable in their growing environment. Just the right amount of water and nutrients are needed for optimum results. "We have had excellent results with PW Proven Winners from our supplier," she explains. The PW label in ubiquitous throughout the nursery stock at Sunset Hill Farms.

The Edsons are also pleased with the fact that they will be featuring an array of many new colors in this year's crop. It should make for some interesting combinations with more on the way. Variety is always an essential part of nursery marketing.

"We all work together to get everything ready for spring even Rocky. He used to follow me every time I went from here to another part of the nursery. Some days that meant dozens of trips in a row. Now he waits in one spot for me to return," she said with a little chuckle.

The Edsons will be ready to bring plants and flowers to the Middlebury Farmers Market the weekend before Mother's Day. "People have seen our baskets and they look forward to them." It has become a kind of spring passage for Al and Nancy Edson.

Herbs have also become an important part of their business and now they have the ability to grow their own right from scratch. Al built an herb seed incubator complete with its own heat source and special lighting. The seedlings bask in a moist 80 degree environment and are already looking healthy and happy. The green color is a welcome sight for anyone who has seen plenty of snow since November.We asked Nancy to give us a few plant care tips as we wound-up our preview of spring.

"Watering correctly is very important. Not too little and not too much. Proper fertilization is also very important. Ask about this when you buy. Knowing the shade needs of the plant is very important. Too much or too little shade is also critical to keep plants healthy all season long. Reading the labels on the plants you plan to purchase and asking questions at the point of purchase is also very important to remember."

Yes spring is just around the corner. It won't be long and Al and Nancy Edson at Sunset Hill Farms Garden and Nursery are ready to make it an even more colorful event, for every one in Addison County.
---