Main Sections
Front Page
Sports
Valley Vitals
It's in the Stars
Starwise
Archives
Links
About The Voice
Contact Us
Waterfalls Day Spa Celebrates Grand Opening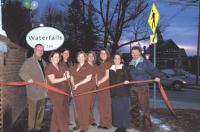 photo provided

Left to Right: Andy Mayer, Executive Director of the Addison County Chamber of Commerce, Sara Daly, Melissa Wilkins, Laurie Webb, Barbara Gibson, Ashley Kennedy, all from Waterfalls Day Spa, Darcy Tarte, Chair of the Addison County Chamber of Commerce Marketing Committee, and Ted Shambo, Membership Director of the Addison County Chamber of Commerce.
Tuesday February 12, 2008
Waterfalls Day Spa in Middlebury celebrate their grand opening with a ribbon cutting ceremony on January 31st.

Sara Daly and Laurie Webb opened Waterfalls Day Spa in October 2007 after a year of planning and construction. Daly is a physical therapist and Webb is a speech language pathologist, esthetician and nail technologist. Both partners worked for Addison County Home Health and had been in the medical field for a combined total of 29 years before opening their spa. Waterfalls mission is to provide effective, high quality spa treatments in a relaxing environment, focusing on enhancing natural beauty.

Waterfalls is a full service day spa offering massage, manicure, pedicure, body treatments, facials, and waxing. Waterfalls offers a relaxing spa environment, from the soothing botanical smells to the sound of the Panton Stone Waterfall created by local artisan Lou Nop. Waterfalls offers packages such as the Moss Glen Falls, which combines a Warm Stone Massage, a Waterfalls Facial, and a Warm Stone Pedicure. There is a spa menu created by Peter Ross of the Middlebury Inn that you can enjoy in your robe from the comfort of the spa.

Waterfalls sells a full line of skin care products from Dermalogica and mineral makeup from Jane Iredale. Waterfalls has a series of classes that include makeup application, eyebrow shaping, and skin care education. Gift certificates are available for any of their services or for any denomination. Waterfalls also offers the VIP spa where the spa can be available for exclusive use for services.

Waterfalls is located at the Middlebury Inn on the greens in Middlebury, Vermont. They are open Tues and Weds 10-5, Thursday and Friday 10-7 and Saturday 9-5. You are encouraged schedule your appointments in advance.

Please visit www.middleburyspa.com to see the treatments offered at Waterfalls Day Spa.The spa may be contacted by email at waterfallsdayspa@gmail.com or by phone at 388-0311.


---
Advertisements
Search our Archives