Main Sections
Front Page
Sports
Valley Vitals
It's in the Stars
Starwise
Archives
Links
About The Voice
Contact Us
A.R.T. Performance Wraps Up Nine School Tour!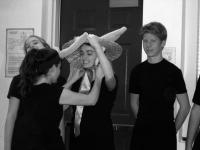 photo provided
Tuesday November 13, 2007
The Addison Repertory Theater class at the Patricia A. Hannaford Career Center recently wrapped up their nine school tour with their annual Children's Show. This year's production included adaptations from children's book favorites such as "The Whale's Song", "Milk Rock", and ever popular; "Runaway Bunny."
Visiting a different elementary school every day from one end of Addison County to the other would prove challenging to even the most seasoned performer. The difference in space, audience size, mood, lighting, and temperature provided varied and effective learning for the student actors.

A.R.T. Performance is a half day class meeting between 12:10-2:10 pm daily taught by Candace Burkle , Steve Small, and student teaching intern from Castleton State College, Heather Denardo. This year's group is bursting with talent from area high schools. Angus Barstow, Florence Howel, James McEnerny, Bethany Neil, Jordan Novotmy, Abbey Plankey, Emma Richards, Wylla Sauders-Vestrich, Caleb Smith-Hastings, and Robynn Stanley round out the amazing cast.

This program offers students an opportunity to create and run a theatre company and is responsible for all aspects of production: technical (offered in the morning schedule at HCC, between 8:45-10:45 am daily), management, performance, research, and writing. This year the instructors are offering mini-modules, which means a student can sign up for a quarter or semester of A.R.T. For instance if a student is interested in getting an acting portfolio together, she might sign up for the January section which is all about preparing for auditions, headshots and portfolios. For more information on these and the other fine technical programs offered at the Patricia A. Hannaford Career Center in Middlebury, visit hannafordcareercenter.org.
---
---
Related Stories:

· The Sound Of Music Performs At VUHS

Advertisements
Search our Archives