Main Sections
Front Page
Sports
Valley Vitals
It's in the Stars
Starwise
Archives
Links
About The Voice
Contact Us
Construction Students Build on Technology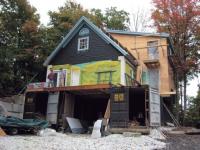 photo by Kelly Mills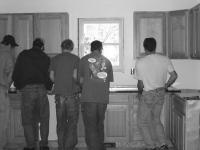 photo by Kelly Mills
Tuesday November 13, 2007
By Kelly Mills
Students in the Construction Technology program at the Patricia A. Hannaford Career Center in Middlebury have moved out their first finished modular home project and begun work on the new one! The classic cape with timber framed trusses to support the second floor roof, was purchased by a Bridport couple and relocated with tractor trailers and cranes supplied by Brown's in Bristol, to their lot on Route 125 during the first week of school. Now that the home is settled on its foundation, several local contractors are wrapping up the finishing touches with the assistance of the students.
One such business, Middlebury Tile & Stoneworks owned by Dave and Paley Anderson, fabricated the granite countertop for the home's kitchen. As an intern with Dave Anderson, second year construction student Sean Sullivan assisted in the planning, design, fabrication, transportation, and installation of the finished product in the home's kitchen. Other Construction Technology students and instructor, Mike Kane were on hand to assist in the installation of the beautiful stone countertop.

Dave coached the students with aspects of safety and quality control as they unloaded and set the stone. He made suggestions for planning ahead so the finely finished product would not break or become damaged
in any way during the final process. As a result, students have literally worked on this home from start to finish learning latest building techniques with an emphasis on energy efficient construction.

Additionally, Construction Technology students visited Construction Day sponsored by the Associated General Contractors of Vermont at Vermont Technical College. Over 200 students from other Vermont technical centers students were in attendance. There, students observed various demonstrations from power tool safety to participating in hands on experiences in land surveying and proper use of fire extinguishers.
---
Advertisements
Search our Archives