Main Sections
Front Page
Sports
Valley Vitals
It's in the Stars
Starwise
Archives
Links
About The Voice
Contact Us
Weybridge-New Haven Rattling Bridge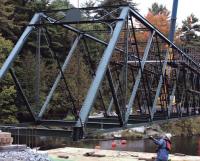 photo by Joe Schmidt

100-year-old bridge returns after being restored.
Tuesday October 9, 2007
By Joe Schmidt
The 100-year-old bridge, on Morgan Horse Farm Road, known for the noise, when crossed by wagon, bike or car, has been on a vacation of sorts.

After CCS Constructors of Morrisville received a nearly million-dollar State contract to restore the structure to it original condition, they decided the work should be performed on land. By crane and barge the 148-foot long, 55,000-pound bridge was moved to the New Haven shore.

Nearly 20,000 pounds of steel was replaced. Some damaged by the elements and wayward vehicles and according to Chris Williams, State Project Manager "To increase the load capacity to meet local community requirements". When the bridge was originally constructed, hot rivets were used to join structural members. Now, tensioned bolts are used for connections.

Remnants of the original lead paint were removed under a large tent-like enclosure. A new three-coat finish was applied to protect the structure from the elements.

One of the two cranes, used for the return voyage, is a recently delivered, bright yellow 150 ft. high giant capable of lifting over half a million pounds. The machine is so large it requires three vehicles and a two-car escort for highway travel.

The new deck nearly 10 inches thick will be constructed from Douglas fir.
CCS hopes to have the road open for traffic by December 1. Will the bridge rattle; only time will tell!
---
Advertisements
Search our Archives