Field Days 2007 Attracts Record Crowds
photo by Mike Cameron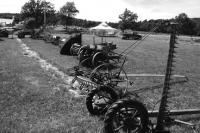 photo by Mike Cameron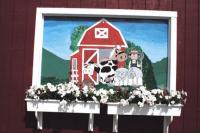 photo by Mike Cameron
Tuesday August 21, 2007
By Mike Cameron
The fact that it came and went with such speed belies the fact that it was another very successful week-long event for Addison County Fair and Field Days.
Fair officials, exhibitors and vendors were blessed with sunshine and clear skies for most of the week and the fairgoers responded.

"We were pleased to see the turnout. Gate receipts have been a good indicator of how many attended over the years. This year we have reason to believe at this point that approximately 45,000 people attended and that would be a new record for us," explained Fair and Field Days President, Russ Carpenter.

Carpenter went on to mention the the co-operation and dedication of everyone involved with Vermont's premiere agricultural event from the directors to limited paid staff and volunteers were very important to mention. "Everyone working together helped to make this years event a success," Carpenter commented.

Rain visited the fairgrounds early in the week but soon gave way to a span of cool mornings and sun-filled afternoons followed by cooler evenings and the fair fans responded in droves.

Farm families had something to cheer about for a change with fluidmilk prices up over previous years and crops doing well in a year of normal weather patterns here in Addison County.

There was time to celebrate at least for the short term. after all, Field Days signals the end of summer and allows friends, neighbors and visitors to come together and compare notes. The displays of everything from vegetable to animals to farm equipment seem to bring this whole event into focus. Something for everyone for the very young to the not so young.

Fair goers welcomed the new restroom facilities that have been installed. The 300-thousand dollar project, which includes handicapped accessibility was a welcome change to everyone who attended. Participation numbers were also up over previous years as Equine, 4-H, Light Horses and Draft Horses showed increased numbers of participants. Beef and Sheep numbers are expected to come in about the same.

Another interesting fair fact is that the attendance on Thursday, Friday and Saturday was larger than ever as overflow crowds watched tractors pull and the Demolition Derby. Both attractions continue to climb in popularity by fans and participants alike.

The antique tractor and farm museum area is also continuing to gather steam as more and more folks discover and come to appreciate that way farming was done in the past and the special people who have paved the way for today's farming methods.

Looking over a proud parents shoulder while their son or daughter displays an immaculately groomed animal in the show tent is another reason some of us look forward to Field Days every year.

And then there was the couple from away that are not connected to agriculture at all as part of their livelihood but, like all of us here in the county rely on the industry for quality food and dairy products. They simply wanted to introduce a little girl to what it feels like to touch a cow, a sheep, a pig and their hosts were only too happy to oblige the little one. The smiles and giggles said more than words can explain.

Field Days is a place where pride in attending has caught on as much as pride in participating. The grounds were spotless again this year as people picked up after themselves, smokers use designated smoking areas with no complaints and folks assigned to such tasks saw to it that anything that might have been left over was gleaned from the grounds by the end of the day.

This trend is likely to continue as Addison County Fair and Field Days continues to attract and hold the interest of those who attend year after year.
---