Main Sections
Front Page
Sports
Valley Vitals
It's in the Stars
Starwise
Archives
Links
About The Voice
Contact Us
OMYA Would Prefer To Ship By Rail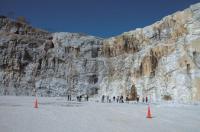 photo by Ed Barna

Up closer, the quarry walls show more variety than the words "marble quarry" might suggest. The people are one tour group on Omya's open quarry day.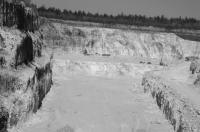 photo by Ed Barna

There might be enough marble for 100 years in this quarry, though taking it out could get steep enough to need a conveyor by the end.



photo by Ed Barna

When there's a quarry Open House, the kids get to move mountains, too.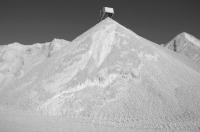 photo by Ed Barna

The piles of crushed stone, ready for trucking (or rail shipment) to Florence, are impressive little mountains themselves.
Tuesday July 24, 2007
By Ed Barna
The news that Omya plans to move its administration headquarters to the Cincinnati, Ohio area sent out shock waves like a quarry blast.
The company wasn't as much of a Vermont icon as Ethan Allen Furniture, which is now made in the South. But in terms of economic impact, Omya has been a heavyweight, with around 300 employees earning very good pay, and the company adding about $55 million (by their figures) to the area economy in payroll, purchases, taxes and subcontracting work.

But only about a sixth of the jobs will be transferred, according to James Reddy, president of Omya's North American operations. Though accounting, engineering, environmental services, human resources and purchasing will go, the marble grinding (calcium carbonate) plant in Florence, in which they have invested about $500 million, will stay.

Likewise, the quarry in Middlebury will continue as one of Omya's more than 100 plants in more than 50 countries. Speaking with the Valley Voice, Reddy sought to allay one of the fears most commonly expressed at hearings on a proposed rail spur from that quarry to the Vermont Railway tracks: that the company would simply increase its quantity of raw material by running both railroad cars and trucks-meaning no benefit to the state in general and to Brandon especially through decreased heavy truck traffic.

"We plan to take 70,000 truck trips a year off the road," Reddy said. "It's good for the environment, it's good for the company, it's good for the state."

The only reasons why Omya might want to use trucks would be if there was a flood that made using the railroad impossible, or if there was a railroad strike. But even there, the Florence plant keeps a 30-45 day supply of marble ore on hand, he said, so trucks might not be needed.

Another thought frequently expressed at hearings has been that Vermont should not spend that much money just for the benefit of one company. Leaving aside the counterargument that other companies like Connor Homes or J. P. Carrara or Vermont Natural Ag Products might also want to use the tracks, Reddy said this view was based on a misunderstanding of what was being proposed.

The $20-22 million cost would initially be paid by money loaned to the state from the federal government, Reddy said. Once the rail spur was operational, both Omya and Vermont Railway would pay a surcharge on the shipments that would pay off the loan. And as that money was transferred to the federal government, the state could use those payments as the state match for federal funds to pay costs associated with the Route 7 improvement project.

In the end, said Reddy, "the state wouldn't pay anything."

It was a statement from a man who has announced that he will retire at the end of the year. But, he said, he will remain in Vermont.
---
Advertisements
Search our Archives